Carport-to-Garage Conversion Deluxe:
enclose carport in to extended garage
Some home owners with a carport want more enclosed space than what is currently under the roof of their carport. What's the solution? If there is room down the driveway to build a bigger garage, then the carport can be enclosed plus extended as a garage addition.
This garage addition is custom-designed with room for 6 cars. The new garage has unique dimensions, lots of windows, and of course a striking angle on the roof. However, perhaps the most unusual feature is visible if you look at the bottom of the garage door....

Notice that the garage is custom-fit (not a rectangle). Why? The whole garage is built on a slope (with the left side of the driveway higher than
the right side). [FOR MORE, CLICK HERE OR SCROLL DOWN IN THIS BOX.]

To see more photos of this specific carport-to-garage conversion, scroll to the bottom of this page. To learn more about why it is valuable to hire a contractor that is experienced with building garages by extending or enclosing carports, keep reading in this pink box. Finally, when you would like to request an estimate on converting your carport in to a garage, simply select the state you are in (from the green row below).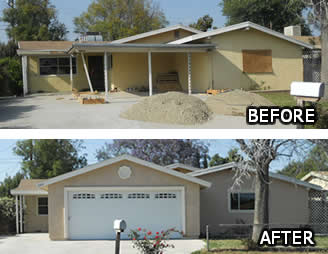 Our conversion pros have been
converting carports for decades
The most important thing with your conversion project is that you are satisfied with the results for many years, right? When converting your carport to a garage, wouldn't you value using professionals that have extensive experience with every element of your construction project? Not only should you choose a pro who is skilled, but who can communicate clearly and with respect for your time (and money).

Over time, our experienced contractors have developed great relationships with the staff of the various local cities who issue permits for home renovations and who conduct inspections for garages, carports, and conversions in to a garage. In addition to the other required inspections, some projects may also need electrical inspections. The process of dealing with the paperwork and the inspectors can be stressful for many homeowners. Wouldn't it be nice to have someone else to handle all of that for you?

Especially if you ever rent out the home after enclosing a carport, you also want the lasting value of having garage doors that have been installed properly (so there is no hassle of correcting any errors in the bracing, in the alignment of wheels and tracks, or in the compatibility between the weight of the doors and the power of the opener). Also, when you eventually sell the home, not only will an enclosed garage make it easier to sell, but sellers can produce an increase in the actual selling price of the home that is bigger than the total cost of the conversion.

When you hire our professionals to convert your carport in to a garage, you will feel the interest and confidence of our specialists as you speak with your renovation supervisor about your priorities and questions. It can be very exciting for you to see the project get completed so smoothly and quickly. You may also be quite relieved to find out how little the entire project will be.
If you are just starting to plan a carport conversion and want to read our planning FAQs, click costs, codes, permits, etc.

Next, you can see a few more of the steps involved in converting your carport in to a garage by clicking here: step 1: building the walls to enclose the carport.

Finally, contact us today to schedule your consultation.

Which state are you in? In AZ,
Colorado, Texas, Georgia, &
Florida, our contractors will
convert your carport for you.
Click the image of the state
where you need a service.